Practically something unprecedented for the company. Since the type of game (one shooter cooperative third – person multiplayer online) to update the model (free for one year), it was a breath of fresh air for the catalog of Wii U sadly dying .
Luckily, Splatoon's reception was great, and he encouraged Nintendo to explore other genres in a similar way, such as the 3D fight with AMRS . Now comes the sequel to Switch, a console that is having much better reception than its predecessor, and that allows Splatoon 2 to have a greater potential user base to attract with its fun proposal.
More ink
Splatoon 2 is a third-person shooting game, focused mainly on the online multiplayer cooperative , although it also has a story mode for a player, but that is totally secondary. The playable essence is that of a shooter , with the particularity that we shoot paint, being able to immerse ourselves in it – and having to do it to reload "ammunition" – and being able to use it to climb certain surfaces, among other things.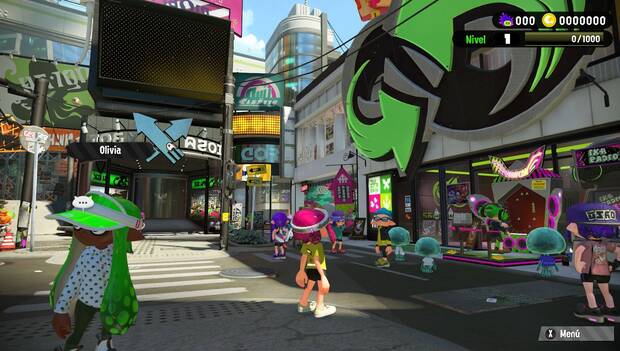 The depth that this implies is very difficult to explain for someone who has not played or has not spent more than a couple of hours , but as usual in many of Nintendo's games, they hide more than it seems. Anyone can play a game of Splatoon 2 and have fun, but those who want to make the most of it have a complex title, with many possibilities.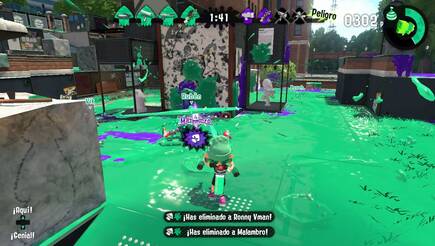 Splatoon 2 offers several game modes that we will be commenting individually. The first is the way for a player, in which we will travel five worlds , chaired by a final boss and with different phases in each one, while we discover a simple story that serves as an excuse to encourage us to move forward. For those who played the first has some winks that are quite grateful and that we get a smile.
The development of this story mode is exactly like that of the first, with an area in which to seek access to the levels themselves, in addition to finding secrets and improving our weapons. Some of these secrets also serve us for multiplayer mode , such as coupons that will allow us to get more experience or money when we play online.
The phases are well designed, introducing their own elements in each one, and although they never become impossible, there are some interesting moments of difficulty. The special mention is for the final bosses, very funny and original both in the playable and in the visual . The story mode does not seem to be enough reason to buy the game, but it is an addition that is appreciated and, without being a revolution is more complete, than the original delivery.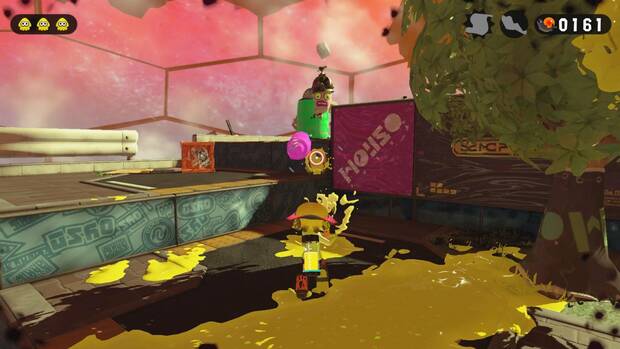 Multiplayer Modes
The core of Splatoon 2 is, of course, the multiplayer game. On the one hand there is the friendly mode, called Territorial Combat, in which two teams of four fight to be the one who paints the most surface of the stage . This is the way we will play at the beginning, since to unlock the qualifying games it is necessary to first reach level 10 in these friendly modes.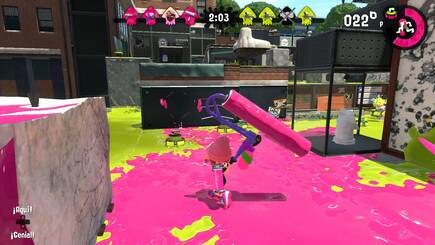 Once unlocked the qualifying modes, we will find three competitive game options, also by teams . We have the Tower mode, where we have to conquer a central platform, Goldfish, which is a kind of capture the flag, and Pintazonas, where we have to fight to color certain areas of the map. The modes are the same as the first Splatoon , so if we play at the time we will be well acquainted with them.
Besides, we have the Tournament mode for those who reach a level B- or higher in competitive games. Here we play with a team of four or a group of two, and we have an independent range that restarts every two hours. At the end of those two hours, we will be awarded a medal depending on how we have done it. There is no lack of the option to play with friends over the internet, and an additional option to play with friends and voice chat , something that is organized with the application that launches on July 21 and that, for obvious reasons, we have not been able to try.
The main novelty of this title is the inclusion of Salmon Run mode, a kind of horde mode for up to four players (although we can also play alone, if no one was online). In this way we have to defeat the enemies that arrive in a wave, pick up their caviar, and in the case of the most complicated enemies, collect the golden fry they release to deposit them in a kind of basket in a specific place on the stage. This also opens the door to new special rewards for our character.
In each game we will fight for three waves of enemies in which we will be required to collect a certain amount of golden fry and, of course, survive. In each wave the game will assign a different weapon to each player, and the scenario will change slightly. The tide may rise, the fog reduces visibility or special cannons are activated to defend our teammates. As we level up the games become more complicated, and we assure you that they become very, very difficult .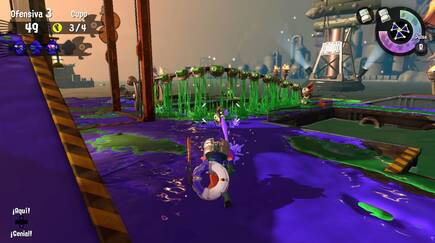 We found it a very fun and addictive way, which can become quite intense, and is ideal for playing with friends, communicating and organizing. We do not understand why, yes, it has been decided to limit this mode to certain times of the day to play through the internet . We understand that in all other modes the scenarios and the type of game change from time to time, but Salmon Run is only accessible at certain times of the day, unless we decide to play locally with friends, which is possible at any time.
About the quality of the online games connection, we have no complaints . We have played with other journalists with sessions that Nintendo has organized through the internet mainly in the afternoon and during the weekend, which has not made it easier for everyone to be available. Even so, we have managed to play a good number of friendly games to reach level 10, play competitive games and play Salmon Run mode, always without connection or lag problems .
Small evolution
If we play Splatoon 2 , the audiovisual jump with respect to the first one may seem scarce. And it is true that we do not see a noticeable change, but when we compare them we can realize that the evolution between deliveries is greater than it seems . In addition to a much more detailed finish, we see improvements in effects, real-time shadows or more complex environments, which help to achieve a visual appearance worthy of a sequel.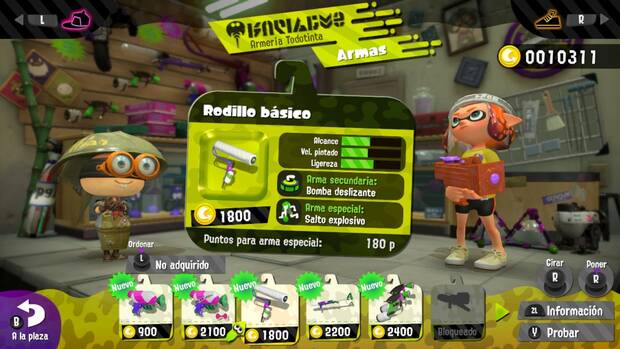 The resolution is also appreciated, up to 1080p when connected to the dock, and up to 720p in portable mode. We say even because the resolution is dynamic , something that together with the lack of antialiasing sometimes leaves us with some fairly serrated edges and a lack of detail in the furthest elements. This contrasts with the moments when the game reaches its maximum resolution and activates antialiasing – as in the Cromópolis square -, parts where the image quality is great.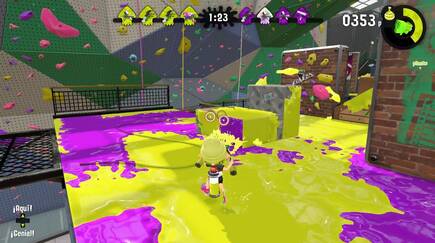 Anyway, it is an understandable sacrifice in favor of 60 images per second. Splatoon 2 is a fast and frenetic game where response time is essential, and Nintendo has decided to sacrifice resolution or antialiasing for maintaining a permanently stable rate at 60 frames . In addition, thanks to the careful artistic style and the agility of its playability, we do not have time to look at small details when we play.
It's funny that we miss the second screen of the GamePad to see the map . Now we can open it by pressing the X button, but doing so covers the entire screen, blocking the vision of the action. The map was very useful to know where the enemies were or to get an idea of ​​what areas could be an easy target, and we can't help feeling that the new system is a step back.
In the sound, highlight the melodies, with its alternative and casual style, and its careful selection of sound effects. As usual in Nintendo, the translation is outstanding, with a lot of jokes from the maritime field adapted to Spanish, and ranging from dialogues to the names of the characters or scenarios. Audiovisual, Splatoon 2 has all the strength and personality of the first, so we can not put a lot of trouble about it.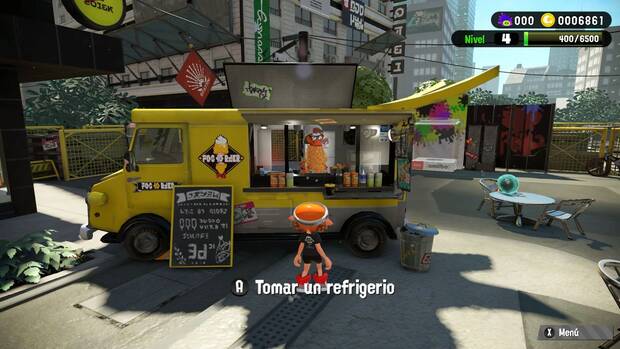 Yes we can criticize that, many times, Splatoon 2 seems more like a kind of expansion or Splatoon 1.5 . Yes, there are new weapons, new maps, new garments and a new mode, as well as some new features, but in the playable, virtually nothing has evolved. We do not say that it is a bad thing, but there are times that it gives you the feeling of playing an expansion; also propitiated by the fact that enough content of this sequel – including maps – arrives inherited from the first installment.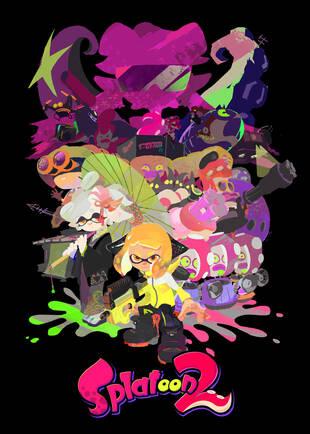 Cromópolis is still alive
Splatoon 2 is hilarious from the start, and as deep and complex as we could expect . The biggest drawback that we can put is a little evolution compared to the first, and the fact that there is a remarkable amount of inherited content makes it sometimes seem more an intermediate step than a sequel itself.
The mode for a player is more complete than that of the first part, but in the multiplayer it is where Splatoon 2 really shines. The classic modes are still addictive and very enjoyable, and the newcomer Salmon Run has enchanted us , despite questionable decisions such as limiting its online aspect.
As with many other games, if Splatoon did not like, Splatoon 2 is not going to change his mind. If you enjoyed it, its sequel will give you many more hours of fun, despite the limited evolution beyond the Salmon Run mode and the mandatory new content.